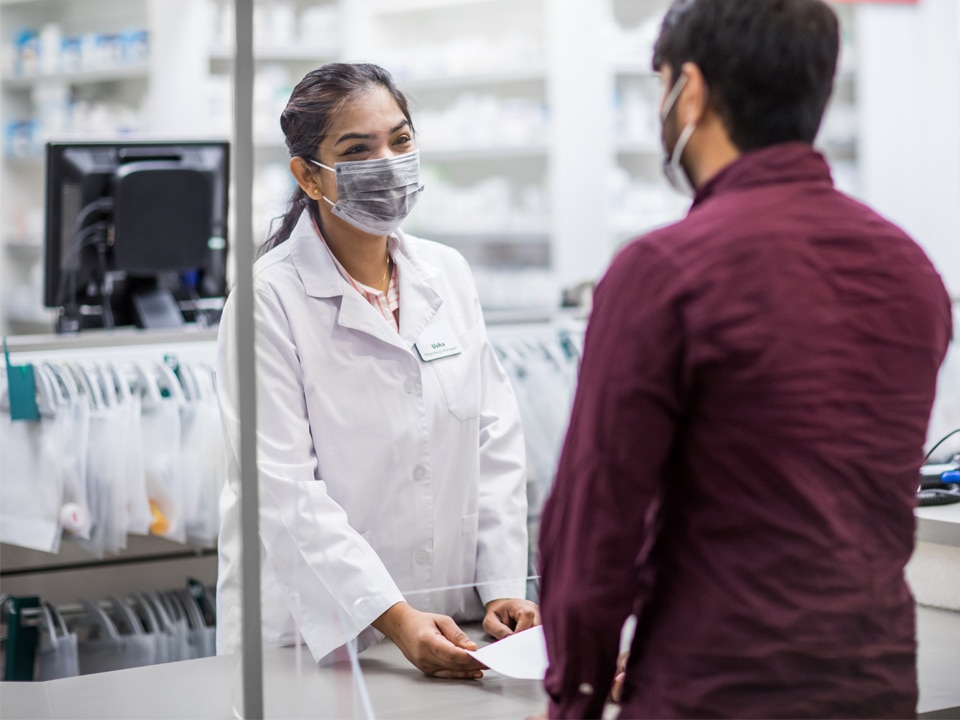 Vacuna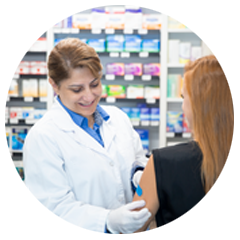 Flu shots are now available. Protect you and your loved ones. Walk-in or schedule an appointment.
It's officially flu season. Fresco y Más pharmacy has everything you need to combat the flu. Our immunization-trained pharmacists administer a variety of CDC recommended vaccines to help keep you and your family healthy and safe. Get your no-cost flu shot* today. Walk-in or schedule an appointment.
*Free with most insurance plans. See pharmacy for details.
State requirements
Each state has its own vaccination requirements. Choose a state from the menu to find out what vaccines are offered in your state.
COVID-19
Influenza (Flu shot)
Influenza High Dose (Flu shot)
Pneumococcal (Pneumonia)
Zoster (Shingles)
Hepatitis A
Hepatitis B
Human Papillomavirus (HPV)
Meningococcal (Meningitis)
MMR
Tetanus/Diptheria
Tetanus/Diptheria/Pertussis
Varicella (Chickenpox)
Not sure which vaccines you need?
Promote health and wellness in your community or workplace
We're here to support your organization's on‐site clinic needs. We would be happy to conduct an on‐site vaccine clinic for your organization or community.
Clinic facts and requirements
Vaccines will be administered by immunized-trained pharmacy staff.
Additional recommended vaccines are available by request.
A minimum of 30 participants is recommended per clinic. Clinic length is determined by the rate of 12-15 immunizations per hour per immunizer*
Billing can be completed through eligible insurance plan or direct invoicing to your organization.
Ready to request an off-site vaccine clinic for your business or organization?
Fill out our clinic request form
Email completed form to ClinicalServices@segrocers.com
Your request will then be assigned to a local pharmacy team that will reach out via phone or email to confirm details and plan next steps.
COVID-19 vaccine FAQs
Many insurance plans will cover vaccinations. To ensure coverage, contact your pharmacist or insurance provider.

---

Vaccines go rigorous testing as required by law and are continuously monitored for safety and efficacy once licensed and in use. Monitoring health problems after receiving vaccinations is essential to ensure vaccines are held to the highest safety standards.

---

It is possible that minor side effects (sore arm or low-grade fever) can be experienced after receiving a vaccination. More information on each vaccine is available on the specific vaccine health pages.

---

A vaccination refers to the process of receiving a vaccine whereas an immunization refers to the process by which a person becomes protected against a disease through vaccination.

---

Many school systems now require 5th and 6th graders to receive a Tdap immunization. Meningitis vaccinations are also required by some colleges before incoming freshman can move into dorms or attend classes. To find out what vaccines are required for your individual situation, please contact your local school district or specific college.

---

Influenza (Flu) and COVID-19 are both contagious respiratory illnesses, but they are caused by different viruses. COVID-19 is caused by infection with a new coronavirus (called SARS-CoV-2) and flu is caused by infection with influenza viruses. Because some of the symptoms of flu and COVID-19 are similar, it may be hard to tell the difference between them based on symptoms alone, and testing may be needed to help confirm a diagnosis.

COVID-19 seems to spread more easily than flu and causes more serious illnesses in some people. It can also take longer before people show symptoms and people can be contagious for longer.

While more is learned every day, there is still a lot that is unknown about COVID-19 and the virus that causes it. This page compares COVID-19 and flu, given the best available information to date.

§ To learn more about COVID-19, visit CDC COVID-19

§ To learn more about the flu, visit https://www.cdc.gov/flu/index.htm

---

Although there are some differences between flu and COVID-19, they also share signs and symptoms. For this reason, it may be hard to tell the difference between them based on symptoms alone. Testing may be needed to help confirm a diagnosis. Get more information on symptoms of COVID-19 and flu.

---

Yes. It is possible have flu, as well as other respiratory illnesses, and COVID-19 at the same time. Health experts are still studying how common this can be. Some of the symptoms of flu and COVID-19 are similar, making it hard to tell the difference between them based on symptoms alone. Diagnostic testing can help determine if you are sick with flu or COVID-19.

---

Getting a flu vaccine will not protect against COVID-19, however flu vaccination has many other important benefits. Flu vaccines have been shown to reduce the risk of flu illness, hospitalization, and death. Getting a flu vaccine this fall will be more important than ever, not only to reduce your risk from flu but also to help conserve potentially scarce health care resources.

---

It's important to get the flu shot every year because the body's immunity response to the vaccine declines over time. Flu viruses can also alter from year to year, so receiving a new vaccine formulation is required to provide optimal protection. It takes up to two weeks for your immunity to build up after getting a flu shot, so the CDC recommends you get vaccinated as soon as flu vaccines become available. Getting a flu shot is the best way to protect yourself and your family from catching the flu.

---

This season, it is likely that flu viruses and the virus that causes COVID-19 will both be circulating at the same time. So, it is more important than ever to get a flu vaccine in order to reduce risk from the flu and reduce the burden on our health care system during the COVID-19 pandemic.

---

COVID-19 vaccines and other vaccines may now be administered without regard to timing. This includes simultaneous administration of COVID-19 vaccine and other vaccines on the same day, as well as coadministration within 14 days. For more information see coadminstration with other vaccines.

---

Four–strain (quadrivalent) vaccine: protects against four different strains of flu virus.

Senior–dose vaccine: developed for people over 65 years old.

Both quadrivalent and senior–dose flu shots are available at Fresco Pharmacy.

---
© &nbspFresco y Más. Derechos Reservados.