¡No se pierda las estupendas ofertas de esta semana!
¡Cada miércoles usted puede obtener puntos en un artículo especial en la tienda! ¡Compre ese artículo y recompénsese a usted mismo con más puntos! ¡Descargue la aplicación para ver la oferta de la semana!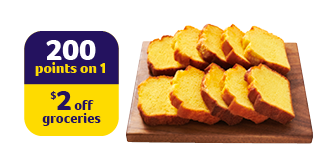 This week's deal
SE Grocers Crème Cake Slices
$3.99 with 200 points (limit 2)
*Terms apply. Limit 2 bonus deal or 200 bonus points per rewards account. Offer valid from 5/18/2022 to 5/24/2022 while supplies last. See stores for details.
Recompénsese por comprar con Fresco y Más
Gane puntos cada vez que compre.
Canjee sus puntos por comestibles gratis.
Repita para ahorrar aún más.
Aprende más